Welcome to the website of Today is Amazing
You are probably here because you are participating in our online icebreaker or our workshop about The Good Conversation.

Go.Chat.Connect. is a conversationtool that gives you unexpected conversations. The icons in the image below will help you with that. If you want to take a look at the game rules, they are below the board game.
Before you start; decide together who gets to act first. Know that there is no winner or loser, the goal is to get to know each other better. Easypeasy.
Let's talk!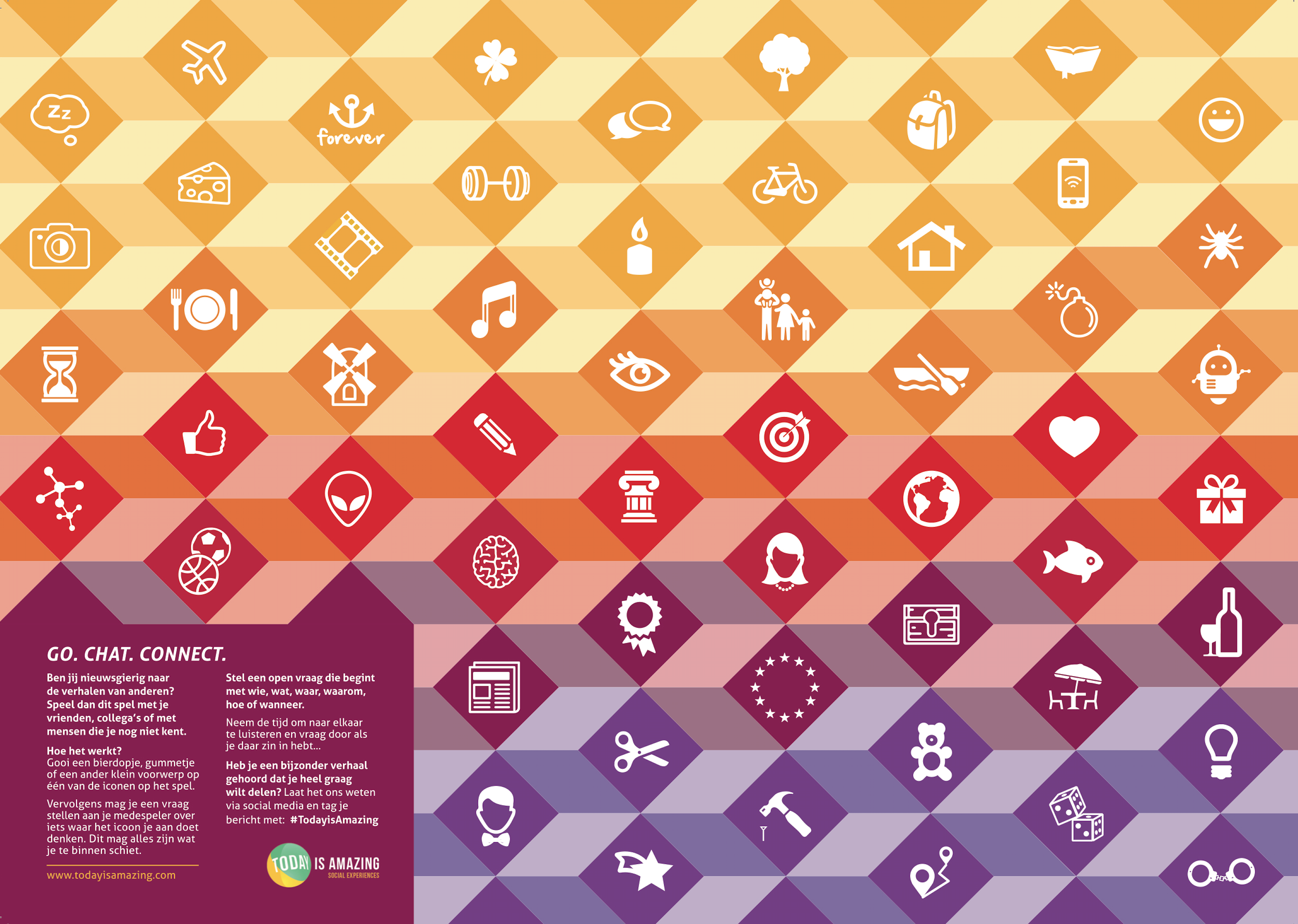 Step 1:
Make sure all icons are correctly positioned on your screen. With your eyes closed, randomly place a finger somewhere on your screen.
For example: your finger lands on 'the tree'.
Step 2:
What does this icon evoke in you? What does it mean to you?
For example: playing outside, a pigeon, wood, a broccoli or a carpenter.
Choose one of those associations.
For example: playing outside
Step 3:
Now ask an open question so you can get to know your fellow player better. An open question often starts with: What, Why, Who, When, Which, Where or How. In addition, you cannot answer an open question with Yes or No.
For example: What was your favorite thing to do when you went outside to play?
For example: Why do you think adults don't play outside anymore?
For example: Who would you like to play outside with?
Now let the conversation go. Keep chatting. It's fine if you end up on a different topic, please.
As soon as this game round is over you will come back to our host and you will hear how to continue playing.
Can't figure it out or do you have another question? Then call Sebastiaan on: +316 46 046 896
Go.Chat.Connect. also exists as a boardgame!



Not finished talking yet?

The deluxe version of Go.Chat.Connect. can be used for years at every dinner party, job interview or cup of coffee. The sturdy cardboard tube can be used as storage space for mobile phones, so you can talk quietly and really have time for each other. The hard-wearing vinyl game board is easy to clean and can take a beating. The BLA block helps you toss an icon and the instruction cards make it a breeze to start a good conversation.

Want to know more?

Mail us at: info@todayisamazing.com