Welkom op de website van Today is Amazing
Je bent hier waarschijnlijk omdat je meedoet met onze online speeddate of onze workshop over Het Goede Gesprek.

Go.Chat.Connect. is een creatieve gespreksstarter die je helpt om een unieke vraag te stellen aan de mensen met wie je het speelt. De iconen op het bord helpen je in vier simpele stappen om een open vraag te stellen. Hierdoor leer je de ander op een verrassende manier beter kennen.

Mocht je de vier stappen willen inzien, ze staan onderaan deze pagina.

Voor je begint; bepaal met elkaar wie er als eerste aan de beurt is. Weet dat er geen winnaar of verliezer is, het doel is om elkaar beter te leren kennen.

Praat ze!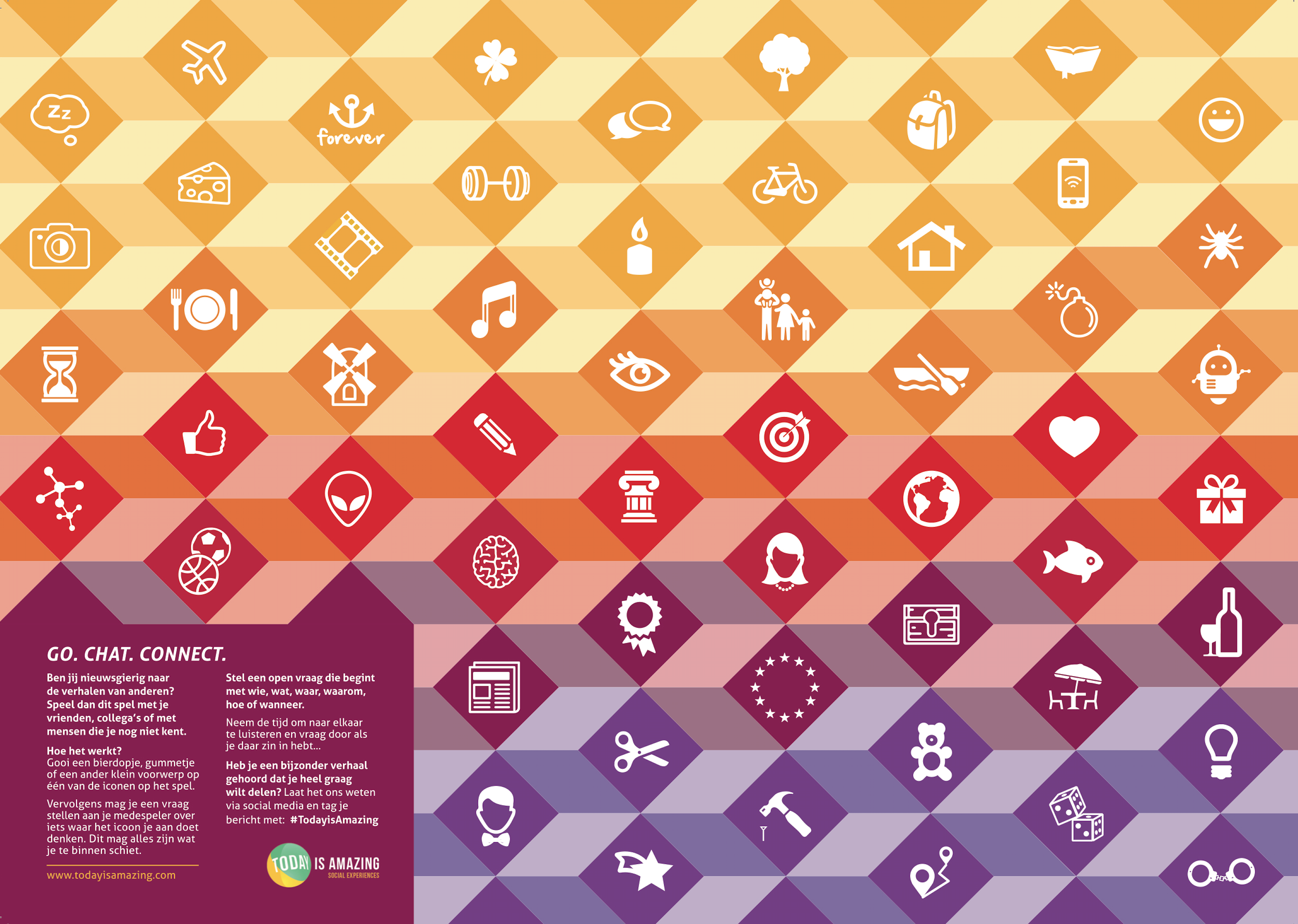 Stap 1:
Zorg ervoor dat alle iconen goed in je scherm staan.
Plaats, met je ogen dicht, ergens een vinger op je scherm .
Bijvoorbeeld: je vinger landt op 'de boom'.

Stap 2:
Wat roept dit icoontje bij je op? Benoem een paar associaties hardop.
Bijvoorbeeld: buitenspelen, een duif, hout, een stronk broccoli of een timmerman.

Stap 3: Kies één van die associaties uit.
Bijvoorbeeld: buitenspelen

Stap 4:
Stel nu een open waardoor je je medespeler beter leert kennen.
Een open vraag begint vaak met: Wat, Waarom, Wie, Wanneer, Welke, Waar of Hoe.
Daarnaast kun je een open vraag niet met 'Ja' of 'Nee' beantwoorden.

Bijvoorbeeld: Wat deed jij vroeger het liefst als je ging buitenspelen?
Bijvoorbeeld: Waarom denk je dat volwassenen niet meer buitenspelen?
Bijvoorbeeld: Met Wie zou jij graag eens buitenspelen?

Laat het gesprek op gang komen. Klets maar door. Het is helemaal prima als je tijdens het gesprek op een ander onderwerp terecht komt, graag zelfs.
Zodra deze spelronde voorbij is kom je weer bij onze host en hoor je hoe je verder gaat spelen.

Kom je er niet uit of heb je een andere vraag. Bel dan Sebastiaan op: 0464046896
Go.Chat.Connect. is er ook als bordspel



Nog lang niet uitgepraat?

De luxe versie van Go.Chat.Connect. kun je jaren gebruiken bij elk etentje, sollicitatiegesprek of kopje koffie. De stevige kartonnen koker is te gebruiken als opbergruimte voor mobieltjes waardoor je rustig kunt praten en echt de tijd hebt voor elkaar. Het slijtvaste vinyl speelbord is makkelijk schoon te maken en kan goed tegen een stootje. Het BLA-blokje helpt je om een icoon te gooien en de instructiekaartjes maken het een makkie om een goed gesprek te starten.
Meer weten?
Mail ons op: info@todayisamazing.com